Beer Blurb: Double Sour Release
Posted on October 18 2022, By: Rie Stadnichuk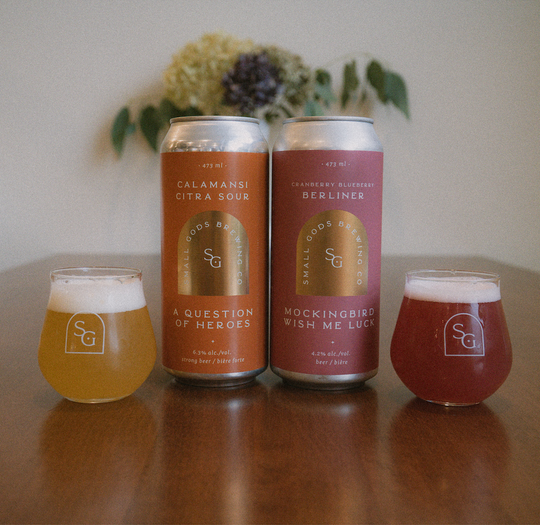 A Question of Heroes 
Calamansi Citra Sour — 6.3% ABV (Strong Beer / Bière Forte) 
Contains Lactose
Profile: Juicy and flavourful, both sweet and sour, calamansi—a citrus fruit from the Philippines—shine through. 
Description: A critical review of 10 historical figures of the Philippines reminds us that even our heroes are human. Calamnsi—found throughout Filipino cuisine—adds acidity and brightness. Its notable citrus flavour is enhanced with Citra hops giving this sour a refreshing, lightly-hopped finish. 
Mockingbird Wish Me Luck
Cranberry Blueberry Berliner Weisse — 4.2% ABV (Beer / 
Bière)
Profile: Light in alcohol, carbonation, and sourness, this easy drink has a nice malt flavour to balance the sourness. 
Description: This book of haunting poetry is filled with the highs and lows of life—its beauty and degradations. Bukowski's poem "The Mockingbird" poignantly ends with "summer was over." We're transitioning to the cooler weather ushered in by the Fall Equinox with a Cranberry Blueberry Berliner. Tart, light, and as crisp as autumn air.