Budget Friendly Group Bookings & Events
Posted on September 06 2023, By: Christopher Bjerrisgaard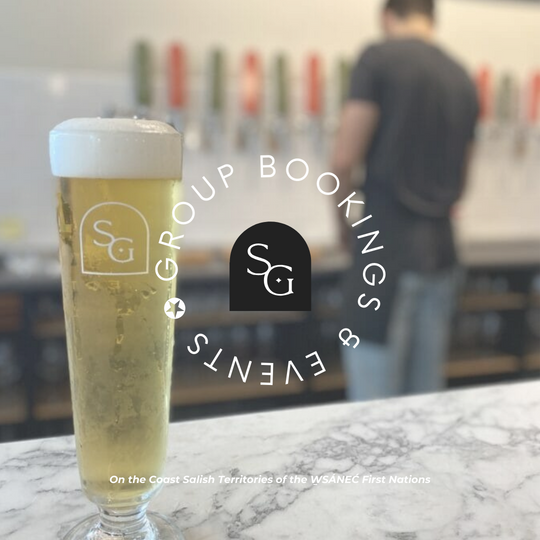 We know finding a cost-effective place to host your event can be challenging. As Sidney's "community living room," that is where Small Gods comes in. We offer a variety of booking options, from no-rental-fee group bookings to low-minimum-spend private event options. 
NO MINIMUM SPEND GROUP BOOKINGS 
Available year round at any time we are open for...
Groups of 7 - 30 guests
No-minimum spend commitments
Standard food & drink menu with counter service*
Food & drink tickets can be provided to control spending
Final bill(s) subject to 20% Auto-Gratuity
Three weeks advanced notice is recommended
Booking subject to availability
.
*Service options available for larger groups on one tab
.
PRIVATE EVENTS
From October through March, our taproom is available for private events on Monday evenings for…
Groups of up to 65 guests
Between 5PM & 10PM (Maximum 4HRS)
$2,000 minimum spend commitment
Food packages for 30 - 65 people are available if pre-scheduled
Outside catering is possible through approved vendors if pre-scheduled
Brewery Tours are available if pre-scheduled
Early access to decorate is available if pre-scheduled
Minimum spend can be met with to-go beer purchase
Final bill subject to 20% Auto-Gratuity
Three weeks advanced notice is required
Booking subject to availability
Other nights are available for a higher minimum spend
.
PRIVATE EVENT FOOD PACKAGES
Starting at $30 per guest, we are proud to offer options such as…
Starters, Salads & Sides Balsamic
Bruschetta Tomato & Olive Focaccia
Charcuterie & Cheese Cups
Asparagus with Prosciutto, Parmesan & Aioli
Classic Caprese Salad
Italian Salad with Melon, Prosciutto & Arugula
Oven Roasted Vegetables (Eggplant, Zucchini, Tomatos)
.
Mains
House-made Meatballs
Lasagne al Forno
Lasagne Vegetali
Chicken Cacciatore
.
Deserts
Lemon Tiramisu Cups
Crème Brûlée
Panna Cotta
 .
To inquire about booking your private event, please email our Head of Hospitality, Parker at taproom@smallgods.ca
.