Small Gods Storyteller Series (vol. 5)
Posted on June 15 2023, By: Christopher Bjerrisgaard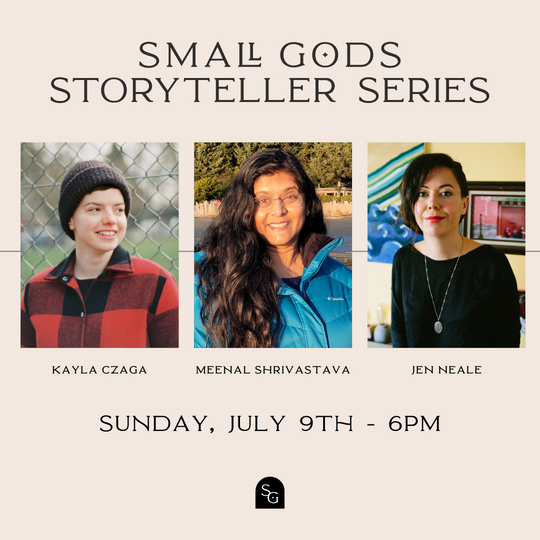 The Small Gods Storyteller Series is a monthly event featuring local and visiting writers.

Join us for an evening of literary readings featuring local authors Kayla Czaga, Meenal Shrivastava, and Jen Neale.

Purchase Priority Reserved Seating Tickets ($5) HERE.

Kayla Czaga is the author of the poetry collections For Your Safety Please Hold On and Dunk Tank. Her work has been shortlisted for the Governor General's Award and the BC and Yukon Book Prizes' Dorothy Livesay Poetry Prize. Frequently anthologized in the Best Canadian Poetry series, her writing also appears in The Walrus, Grain, Event, The Fiddlehead, and elsewhere. Her third collection Midway will be released from House of Anansi in spring of 2024.

Meenal Shrivastava is an Associate Dean and Professor at Athabasca University. Her first book of creative non-fiction comes after over two decades of publishing academic analyses of the interactions of globalization and democracy. Amma's Daughters: A Memoir (AUP, 2018) combines family history and archival research to tell the stories of ordinary women whose extraordinary contributions to the world's largest political movement remain invisible in historical accounts.

Jen Neale's debut novel, Land Mammals and Sea Creatures, was a finalist for the Atwood Gibson Writers' Trust Prize in 2018 and was named one of "The Globe 100" favourite books of the year. Her short fiction has been published in magazines across Canada and the US, including Maisonneuve, The Ex-Puritan, and The Masters Review. She was the winner of the 2012 Bronwen Wallace Award for Emerging Writers.

Schedule
5:45 PM - 6:00 PM: Doors Open

6:00 PM - 7:00 PM: Readings and Q&A

7:00 PM - 8:00 PM: Meet & Greet and Book Signings

A limited number and selection of books by the authors may be for sale after the event. We recommend you bring cash if you intend to purchase books. Please feel free to bring any books you may own by any of the authors should you like to have them sign it after the readings!