Small Gods Storyteller Series (vol. 4)
Posted on May 16 2023, By: Christopher Bjerrisgaard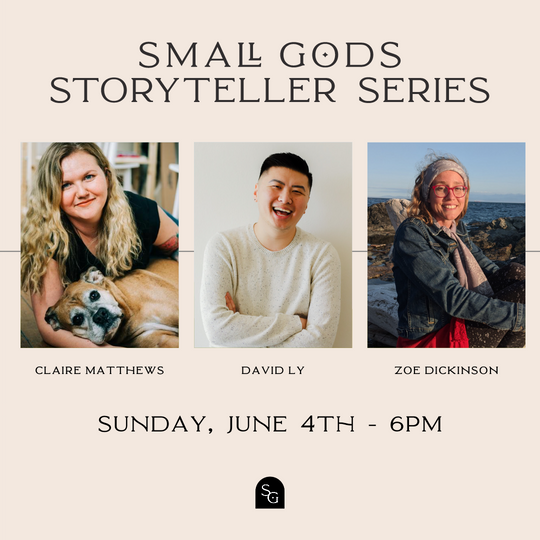 The Small Gods Storyteller Series is a monthly event featuring local and visiting writers.

Join us for an evening of literary readings featuring visiting writers David Ly and Claire Matthews, as well as local poet Zoe Dickinson.

Purchase Priority Reserved Seating Tickets ($5) HERE.

David Ly is the author of Mythical Man, which was shortlisted for the 2021 ReLit Poetry Award, and Dream of Me as Water (2022), both published under the Anstruther Books imprint of Palimpsest Press. He is also co-editor (with Daniel Zomparelli) of Queer Little Nightmares: An Anthology of Monstrous Fiction and Poetry (Arsenal Pulp Press, 2022).

Claire Matthews is a bi, neurodivergent writer, editor, and creative facilitator. She lives on the unceded, traditional, and ancestral territories of the Musqueam, Squamish, and Tsleil-Waututh nations. Her poetry recently received second place in CV2's Foster Poetry Prize and is forthcoming in Prairie Fire. In her spare time, she makes jam and poor decisions.

Zoe Dickinson is a poet, bookseller, and the Artistic Director of the Planet Earth Poetry Reading Series from Victoria, BC. She has been published in literary journals such as Existere, Prairie Fire, and Contemporary Verse 2. Her first chapbook, Public Transit, was published in 2015 by Leaf Press, and her second chapbook, intertidal: poems from the littoral zone, is the 2022 winner of the Raven Chapbook competition. 

Schedule
5:45 PM - 6:00 PM: Doors Open

6:00 PM - 7:00 PM: Readings and Q&A

7:00 PM - 8:00 PM: Meet & Greet and Book Signings

A limited number and selection of books by the authors may be for sale after the event. We recommend you bring cash if you intend to purchase books. Please feel free to bring any books you may own by any of the authors should you like to have them sign it after the readings!