Small Gods Storyteller Series (vol. 1)
Posted on February 22 2023, By: Christopher Bjerrisgaard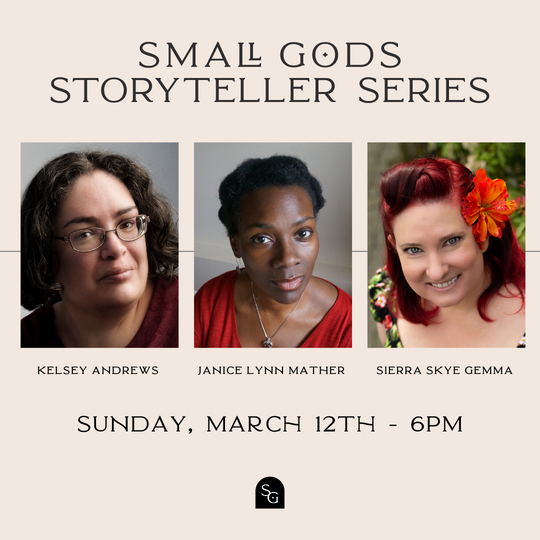 We are very excited to launch the Small Gods Storyteller Series, a monthly event featuring local and visiting writers.
On March 12th at 6 pm, join us for the inaugural event (vol. 1) of the Small Gods Storyteller Series! Enjoy an evening of literary readings, featuring: visiting author Janice Lynn Mather (fiction), local poet Kelsey Andrews (poetry), and Small Gods' resident writer Sierra Skye Gemma (nonfiction).
General Admission Tickets ($5, cash only) available at the door at 5:45 pm on Mar 12.

Janice Lynn Mather is a Bahamian-Canadian author with Jamaican roots. Her first novel was a Governor General's Award finalist, a BC Book Prize finalist, and won the 2020 Joan F. Kaywell Books Save Lives Award. Janice will be reading from her recently released short story collection Uncertain Kin.

Kelsey Andrews is best known for her poetry, though she writes short fiction too. Kelsey grew up in the country near Grande Prairie in Northern Alberta, before moving to the West Coast, and these two landscapes anchor much of her work. Her first book, Big Sky Falling, was published in 2021.

Sierra Skye Gemma is Small Gods Brewing Co's Head of Administration and a nationally recognized essayist. She is the recipient of a National Magazine Award for Best New Magazine Writer and a National Newspaper Award for Long Feature, and has been anthologized in The Best Canadian Essays collection.

What makes this event particularly exciting—aside from being the inaugural session of the Small Gods Storyteller Series!—is that it will be the first time that Small Gods Brewing will host a writer who has inspired one of its beers!

Small Gods is a literary-themed brewery and we name all of our brews after works of literature. This year, we are releasing our Uncertain Kin Pink Guava Hazy Pale Ale with the Pink Boots Hops Blend by Yakima Chief Hops for International Women's Day (March 8th). The Pink Boots Society is an organization dedicated to advancing women and non-binary folks in the fermented alcoholic beverage profession through education. Our Uncertain Kin Pink Guava Hazy Pale Ale is a celebration of the feminine spirit!

Our Storyteller Series, vol. 1 event will offer you the rare opportunity to sip on an Uncertain Kin beer as you listen to Janice Lynn Mather read from Uncertain Kin. Please feel free to bring any books you may own by Janice Lynn Mather or Kelsey Andrews if you'd like them signed after the reading!

Schedule
5:45 PM - 6:00 PM: Doors Open
6:00 PM - 7:00 PM: Readings
7:00 PM - 8:00 PM: Book Signings, Ask the Authors Your Questions, & After Party

Priority Reserved Seating is available for sale through the Small Gods EventBrite. These tickets will provide reserved seating in the closest proximity to the readers.

General Admission Tickets will be available at the door at 5:45 pm on the night of the event, but seating is not guaranteed. To reserve General Admission Tickets in advance, contact Sierra at sierra@smallgods.ca

IMPORTANT NOTE: This event has communal seating, so singles and smaller groups may be seated together. For more information, email Sierra at sierra@smallgods.ca before you purchase tickets.

Photography at Small Gods Brewing: We respectfully reserve the right to take photos, videos, and recordings during our events for promotional purposes. We acknowledge that not all wish for their photo to be taken and while we hope that does not influence an individual's decision to attend our events, we do want to provide information for people to make informed decisions with respect to their personal boundaries. By entering the premises or joining events and programs at Small Gods Brewing, please understand that this constitutes your consent to be photographed or filmed for release on our social media and other platforms. We thank you for your understanding and sincerely appreciate your patronage.
-