Small Gods Storyteller Series, vol. 7
Posted on October 05 2023, By: Christopher Bjerrisgaard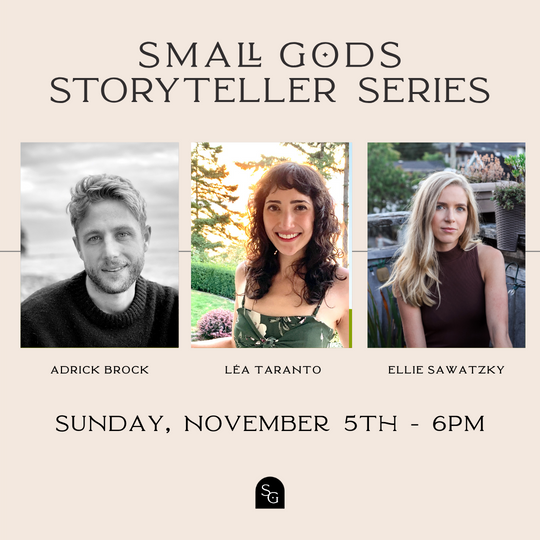 An evening of literary readings, featuring visiting writers Léa Taranto, Adrick Brock, and Ellie Sawatzky!
GET YOUR $5 PRIORITY RESERVED SEATING TICKETS HERE
Léa Taranto is a Chinese Jewish Canadian writer living with OCD and comorbid disorders. A graduate from UBC's MFA program and an alum of SFU's The Writer's Studio, she is also a member of Prism International's poetry editorial board. Her work is forthcoming in Grain and has been published in Vallum, Room, Emerge 20: The Writer's Studio Anthology, Untethered , and Transitions , among others.
Adrick Brock is a writer from Toronto Island. His fiction has appeared in The New Quarterly, EVENT, The Malahat Review, Prism International, Riddle Fence and The Dalhousie Review. He holds an MFA in Creative Writing from the University of British Columbia and lives in Vancouver, where he is currently seeking representation for his debut novel, Islanders.
Ellie Sawatzky is the author of the poetry collection None of This Belongs to Me (2021). She holds an MFA from UBC's Creative Writing program and is currently an editor for FriesenPress and a Creative Writing instructor at Vancouver Community College. A past winner of CV2's Foster Poetry Prize, her poetry and prose have been published in The Fiddlehead, Room, Grain, Canadian Literature, PRISM international, and elsewhere.
A limited number and selection of books by the authors may be for sale after the event. We recommend you bring cash if you intend to purchase books but some authors may also use Interac e-transfer. Please feel free to bring any books you may own by any of the authors should you like to have them sign it after the readings!
Priority Reserved Seating is available HERE. These reserved seating tickets will provide the closest proximity to the readers. General Admission Tickets be available at the door on the night of the event but seating is not guaranteed.
IMPORTANT NOTE: This event has communal seating, so singles and smaller groups may be seated together. For more information, email Sierra at sierra@smallgods.ca before you purchase tickets.
Photography at Small Gods Brewing: We respectfully reserve the right to take photos, videos, and recordings during our events for promotional purposes. We acknowledge that not all wish for their photo to be taken and while we hope that does not influence an individual's decision to attend our events, we do want to provide information for people to make informed decisions with respect to their personal boundaries. By entering the premises or joining events and programs at Small Gods Brewing, please understand that this constitutes your consent to be photographed or filmed for release on our social media and other platforms. We thank you for your understanding and sincerely appreciate your patronage.