Media Kit
Posted on April 04 2022, By: Christopher Bjerrisgaard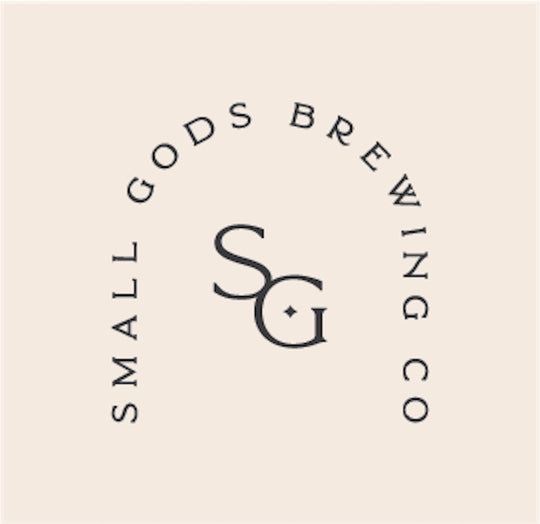 Small Gods Brewing Co. Announces Opening of Sidney's Newest Craft Brewery
August 5, 2022
Sidney, British Columbia — Small Gods Brewing Co. a new craft brewery opening in Sidney, BC, located in SET,TINES on the territories of the W̱SÁNEĆ people. This family-owned and operated business will officially open its doors on August 5, 2022. 
Small Gods Brewing Co. is a literary-themed brewery, designed to fit into the surrounding community and provide a family-friendly atmosphere where everyone is welcome to stop by, satiate their hunger with artisan sandwiches and charcuterie boards, and have a beer with friends, family, or their favourite book. 
"We are extremely proud to bring Small Gods Brewing to the town of Sidney, and become a member of the ever-growing Island beer scene," says Chris Bjerrisgaard, Small Gods co-owner and Head of Commercialization. "Our intention is to add to that scene by providing a premium experience to our customers, and the best possible beer we can produce, with no expense spared on our raw materials." 
"What makes our beer program unique is our efforts to provide top-notch examples of contemporary styles like hazy IPAs and fruited sours, while still making sure to have offerings like our lagers and malt-driven amber ales to satisfy customers who want a more traditional product," says Jonny Kostiuk, co-owner and head brewer of Small Gods Brewing Co. "In short, we designed our beer list so anyone can come and enjoy Small Gods despite our lean towards the cutting edge of the industry." 
Small Gods Brewing Co. is complementing their craft beers with a counter-service style deli. Beverage options also include local wines, cider, and non-alcoholic offerings. Guests can savour their drinks on the 60-seat patio or inside the 80-seat brewery lounge, or grab a 4-pack & sandwich to go and enjoy one of Sidney's many beaches, parks, or piers. 
Small Gods Brewing Co. will be operating under limited hours, Thursday through Monday, for the remainder of August. Come September, Small Gods will open daily from 11 am until 10 pm (11 pm on Friday and Saturday). The brewery is located at 9835 Third St. at Sidney Ave., in the heart of the Sidney by the Sea community. Sidney is a charming seaside village beside the Swartz Bay ferry terminal that connects South Vancouver Island to the mainland (and Vancouver), and is only a 20-minute drive north of BC's capital city of Victoria.
Chris Bjerrisgaard, founder, co-owner, and Head of Commercialization is available for phone, virtual, and in-person tours & tastings which you can book directly with rie@smallgods.ca. 
About Small Gods Brewing Co. 
Brewing industry veteran Chris Bjerrisgaard and his partner Sierra Skye Gemma have teamed up with business partner and head brewer Jonny Kostiuk to bring this exciting new venture to Sidney. The brewery invites guests to come enjoy unique beers, good company, and join in on fun events such as literary trivia nights and author readings. Small Gods has already made an impression on the brewing scene in BC through collaborations with breweries across the province, including Twin Sails in Port Coquitlam, Field House in Abbotsford, House of Funk in North Vancouver, Whistle Buoy in Victoria, and Slackwater in Penticton.